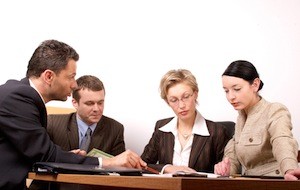 Personal injury lawyers can help you in many different ways if you or someone close to you has been hurt due to the negligence of another party or parties. Your attorney will be with you from the start of your case to the end, keeping the lines of communication open so you are up to date every step of the way. These are just a few of the ways that a lawyer can be a substantial amount of help during this stressful time in your life.
Personal Injury Lawyers and Compensation
When an accident occurs, it can lead to not only debilitating injuries, but also major expenses associated with those injuries. The amount of money that the court will award a plaintiff in this type of case is known as "damages," and there are many different types of damages. For example, personal injury lawyers will work to help you obtain compensation for damages such as the loss of wages and future earnings due to incapacitation, present and future medical expenses, property loss or damage, and more.
Dealing With the Insurance Company
Skilled personal injury lawyers are also experts in dealing with insurance company representatives. If you are hurt in a car wreck, for example, caused by another driver, the at-fault motorist's insurance company will do whatever it can to pay you as little as possible. It would actually prefer not to pay you at all. An experienced attorney, however, will know all the tricks insurance adjusters and other professionals use to try and deny an injured person his or her rightful compensation.
If you would like to learn more about how the personal injury lawyers with Martin, Ingles and Hensley Law can help if you or a loved one has been injured due to the negligence of others, please contact us online or call (804) 693-2500.