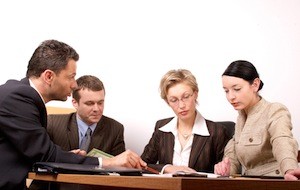 No matter what type of lawyer you hire, you want to take your time to make sure you make the right choice. If you are preparing to hire a wills & estates attorney, here are some important considerations to remember that will help make your decision easier.
The Initial Meeting
When you choose to start getting your financial, business and legal affairs in order, you will want to speak with at least two or three lawyers before making your final choice. The first meeting with your wills & estates attorney will be a great chance for you to get an idea of how you will be treated should you choose that lawyer. Pay close attention to not only the way the attorney communicates with you, but how others in the office treat you as well. Make sure there is someone to answer the phone so you can get the answers you need when you need them.
Legal Documentation
You want a wills & estates attorney who will make sure that all of your legal documents are properly prepared. Wills and trusts, as well as other important documents, must be updated on a regular basis. A good attorney will not only do this, but will provide you with continuing guidance to help make sure all of your final wishes will be carried out exactly as you want.
Safeguarding Inheritance
Your attorney must provide you with the tools needed to make sure your children will receive their inheritance just the way you planned. For example, he or she should help ensure that your assets are passed on properly, and cannot be lost due to a lawsuit filed against your child, a divorce or anything else. A good lawyer will know how to put the right strategies in place.
If you would like to speak with a wills & estates attorney with Martin, Ingles & Hensley, contact us online or call (804) 693-2500.